Last updated: Friday, 03 February 2023
The Coalition presented candidates for the positions of non-judge members in the High Council of Justice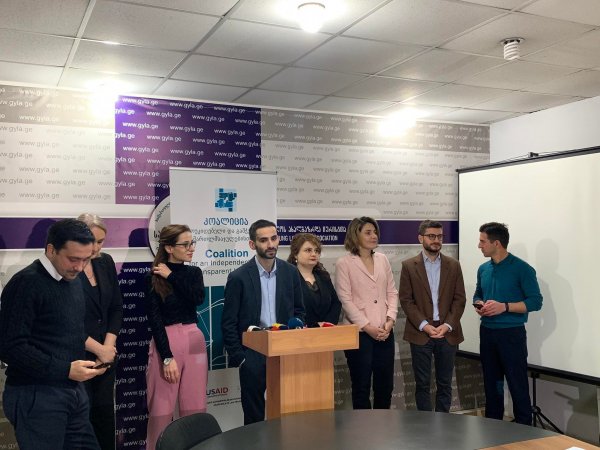 The Coalition for an Independent and Transparent Judiciary nominated and expressed its support for five candidates for the positions of non-judge members in the High Council of Justice.
The selection competition for five non-judge members of the High Council of Justice was announced in Parliament on September 30, 2022.
The five candidates supported by the Coalition, who were nominated by individual non-governmental organizations and higher educational institutions and who will participate in the competition are:
Lika Sajaia - New Vision University professor;
Ana Abashidze - Head of the Partnership for Human Rights;
Dimitri Khachidze – Lawyer, member of the Georgian Bar Association;
Sulkhan Saladze - Head of Good Governance and Freedom of Information Program (Caucasus Open Space);
Giorgi Burjanadze - Deputy Public Defender of Georgia.
At the press conference, the Coalition focused on the steps to be taken by the Georgian authorities in this process, which should be directed towards the consensus-oriented reform of the court management and create strong obstacles to the excessive concentration of power that exists in the court system today.
If Parliament elects five non-judge members, it could be a significant step forward in achieving the above-mentioned goals. Unbiased, honest, and competent candidates must be elected to the position.
Contact:
5 Marjanishvili Street, 3rd Floor, Tbilisi 0102, Georgia.

+995 (32) 2505404