Last updated: Friday, 03 February 2023
Coalition for an Independent and Transparent Judiciary Pushes for the Next Wave of Judicial Reforms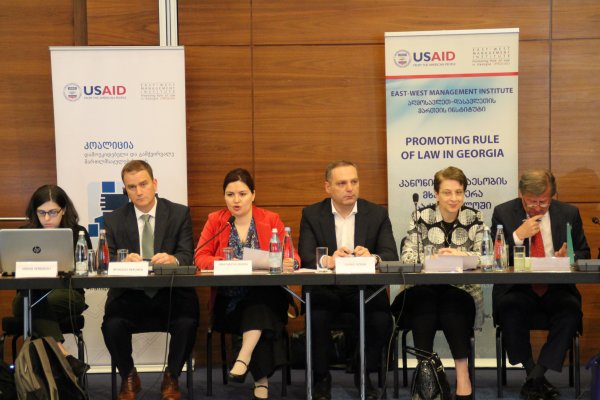 Left to right: Sopo Verdzeuli, Human Rights Education and Monitoring Center, Nicholas Berliner, Deputy Chief of Mission, the United States Embassy in Georgia, Ana Natsvlishvili, Georgian Young Lawyers Association, Giorgi Gogia, Human Rights Watch, Nino Gvenetadze, Chief Justice of the Supreme Court, Janos Herman, the European Union Ambassador to Georgia
On May 11, the Coalition for an Independent and Transparent Judiciary, with the support of EWMI-PROLoG, held a public forum to discuss next steps for the reform of Georgia's judicial system. The Coalition presented a comprehensive report titled "The Judicial System: Past Reforms and Future Perspectives," which provides an analysis of reforms carried out since 2012 and explores current institutional problems. The forum brought together representatives of the state and civil society to discuss the findings of the study. Opening speeches were made by Nino Gvenetadze, Chief Justice of the Supreme court, Eka Beselia, Head of the Parliament's Legal Committee, Nicholas Berliner, Deputy Chief of Mission at the U.S. Embassy, Janos Herman, the European Union Ambassador to Georgia, and Ana Natsvlishvili, Chair of the Coalition for an Independent and Transparent Judiciary.
In their presentations the Coalition representatives noted that, despite certain improvements achieved through the so-called "Three Waves" of judicial reform, the objective of making the Georgian judicial system independent and transparent has not been fulfilled. Allegations are made concerning the influence of elite groups within the court system. The independence of the judiciary is weakened by institutional problems in the areas of judicial selection and appointment, judicial probation, evaluation and promotion, number of judges and caseload, court administration and management, and judicial discipline. The report also raised the issue of gender-related stereotypes and gender-insensitivity by members of the bench. The Coalition members proposed specific recommendations to address these problematic areas. The representatives of the state institutions engaged in the discussion and expressed readiness to continue reforms. Representatives of both the Ministry of Justice and the Parliament confirmed that they are committed to carry the reforms to the next level, and said they are ready to continue a dialogue with the civil society representatives in this process.
The Coalition plans to hold additional meetings with representatives of the Parliament and the judiciary to promote the recommendations of the report.
Contact:
5 Marjanishvili Street, 3rd Floor, Tbilisi 0102, Georgia.

+995 (32) 2505404